"Alma Mater", a bronze statue of the ancient Greek Goddess Athena, was sculpted in 1903 by Daniel Chester French
as a gift in memory of Robert Goelet (Class of 1860) from his wife Harriette W. Goelet
and sits as an iconic centerpiece on Columbia's campus in Morningside Heights, Manhattan.
Silfen Leadership Series Blog
Gary Knell, CEO, National Geographic Partners
Gary returned to Columbia Business School a year after his last talk on campus to give a Silfen Leadership talk. His career in educational media has spanned over 30 years, including a stint as the President and CEO of NPR and 22 years spent at Sesame Workshop.
He started the talk with quotes from Charles Darwin and talked about everything from organizational structure to the future of media. When describing what he's trying to build at Nat. Geo., Gary said that a great organization is simply unadulterated excellence. An organization that people would miss if it vanished because no other organization can comparably do what they did.
In 2015, the National Geographic Society spun off its magazine and media interests into a for-profit entity called National Geographic Partners in an estimated $725 million deal with 21st Century Fox. The National Geographic Society now focusses on grant making and research activities with a much bigger endowment. Gary said that before the split, the organization was mush. After they reorganized "we found clarity."
Gary highly recommended that we watch:
· Jane – a documentary about Jane Goodall, the woman whose chimpanzee research challenged the male-dominated scientific consensus of her time and revolunized our understanding of the natural world.
· One Strange Rock – a Nat Geo series starring Will Smith about the unique story of our planet.
He talked about how
On the challenges facing National Geographic, Gary said simply "the challenge is that we're no longer competing with what's on HBO but vs every single piece of content ever invented."
He mentioned that just like Walmart and Target destroyed a lot of local retailers, Amazon and Netflix are doing that to Media companies. Eventually though, he admitted that the changing landscape also opened up opportunities for creatives to prosper. If big media companies don't give a creative person a platform, they can invent it themselves on YouTube.
He mentioned Climate Change with a simple admission – "We're unfortunately passing on this problem to you."
Asked the question "What do we do in a world of no absolute facts?" Gary quoted Neil DeGrasse Tyson "The best thing about science is that it is true whether you believe it or not." He said "National Geographic will continue to be on the side of Science."
It was an entertaining, educational afternoon. It offered us a peek into an organization that has shaped how a lot of us view the world. We are grateful to Gary for taking the time to give this Silfen Leadership talk.
- Written by Prateek Jain '18
Reuben Mark, Retd. CEO, Colgate-Palmolive Co.
Martina Jean Hund, CFO, Mastercard
We had the privilege of hearing from Martina Hund-Mejean, the chief financial officer for MasterCard, whose career story at Mastercard, Tyco, Lucent, GM and Dow Chemicals is too long to be listed here. Ms. Hund-Mejean has been named one of the "Most Powerful Women in Finance" by American Banker magazine for three consecutive years. We invite you to watch this talk in its entirety above and offer a few of the highlights of her message below.
On Blockchain:
Martina began with the declaration that Mastercard as a company stands for trust. So it follows that whatever they put out, they ensure best-in-class security.
She said that Mastercard embraces all the new technologies that emerge in multiple ways, whether it is AI or blockchain or cryptocurrencies. They have already built their own private blockchain network that could be connected to a settlements engine and allow Mastercard to support payments in 210 countries immediately. But Martina thinks the technology is not yet ready to conveniently and securely process these transactions and expects a lot more developments soon.
On the future of electronic payments:
Martina thinks of the three most important stakeholders for Mastercard as the governments, consumers and the merchant networks. She thinks all three communities are becoming more open to electronic payments over time. However, 85% of retailer transactions in the world are still done via cash. So she thinks cash is Mastercard's competitor, not Paypal or Square, or anyone else making payments electronic. All those players help the card network grow in reach as people become more comfortable with electronic money.
On optimizing the MBA experience:
Martina's experience at the Darden MBA program taught her that she should put herself in situations that let her be the most successful person she could be. She came to America on a scholarship from Germany to seek opportunities that may not have been available at home.
She offered the advice that students should put themselves out of their comfort zone – take the hard courses, try the stuff you might be bad at. After the MBA, she advised that we take many, interesting jobs, and thus connect the dots along our careers.
Overall, we were privileged to have Martina amidst us. The Silfen Leadership series brings leaders from all walks of life to Columbia Business School, and Martina's down-to-earth demeanor, incredible industry insights and practical advice helped us think about our own future with much more clarity.
- Written by Prateek Jain '18
November 7, 2017
James Gorman '87, CEO of Morgan Stanley
We imagine any afternoon spent listening to Mr. Gorman would be a memorable afternoon, but he seemed to be particularly candid and quotable at the Silfen Series event at CBS.
He was originally a lawyer, so the first question he got was "What led you from law to business?"And he said "Business decisions are made in concentric circles of influence. And I realized that lawyers are usually on the outside circle, cleaning up after the decision makers.'
While at CBS, he "really enjoyed taking very diverse classes because I knew that you couldn't graduate without knowing how companies finance themselves & sell products. But importantly, I knew that people run organizations." His point was that to influence an organization, you have to make management act differently.
During his time at McKinsey, he interacted with management up-close. "There was one thing that I focused on a lot: For any problem, what was the solution space. If the answer ranged from 41 to 59, and management would still act the same whether the answer was 41 or it was 59, then why do the analysis? Why not figure out what would cause management to act differently? This approach really focuses your mind on the thing that matters. Instead of being compulsively analytical."
Now that he is in management we asked about his role as CEO of Morgan Stanley and he described it in various colorful stories. The analogy that stuck with me was that "a company has various departments and activities that are like the organs and plumbing in a body. As CEO, you're at the heart of the machine."
His best management advice of the evening included:
Don't follow a strategy by envy.
"The world has a vast talent pool... But talent management is very hard... You have to figure out how to teach people that they're having a growing experience [even when they are] doing mundane things... Its not always glamorous."
His final advice to the students was that "in any management role, your job is 'chief decision maker.' If you don't like making decisions, don't try to be a leader. And remember that everybody likes making correct decisions. You have got to be decisive and assume that 20% of your decisions will be wrong." Which felt like his way of telling us to stop stressing about engineering our career paths and making the right decision at every turn.
Like I said in the beginning, it was an afternoon worth remembering. Come check out the next Silfen Series talk on campus for more such insights.
- Written by Prateek Jain '18
Rob Falzon '83, Executive VP and CFO of Prudential Financial
The first talk in the Silfen Leadership series for 2017-2018 was given by Mr. Robert Falzon. He gave a fascinating talk about his approach to leadership and how it has shaped his remarkable career.
He has a friendly speaking style and started off by telling us that being back in Uris Hall in Columbia reminded him of taking classes 34 years ago. He then joked about how unfathomable it was that he spent over 30 years at one company. He started off in Prudential's fixed-income investments area, then went on to do investment banking, then worked in the global real estate line before he was appointed to the role of treasurer and most recently, the CFO position.
Core to Mr. Falzon's talk were thoughts about the drivers of success and longevity. He reminded us that the average life-span of a company is 14 years but Prudential has been around for about 140 years. For an institution to thrive for so long, it has to be driven by a mission. "Company strategies change, missions don't." For Prudential, that boils down to making promises to people and keeping those promises. He talked about how the investable universe caps out about 30 years in the future, but Prudential takes on insurance liabilities that could go on for much further than 30 years. With average life-spans rising and market returns always changing, his job of nurturing the money entrusted to the company keeps getting more interesting.
Mr. Falzon also had a different spin on the importance of a rigid strategy. He said "remember that talent is strategic. Event a great strategy will be stumped by talent." Then he quoted Alexander the Great: "No battle plan ever survived contact with the enemy."
Recognizing that most of the audience was composed of MBA students, he used these analogies to talk about the challenges of "planning your career." His career advice was to be adaptable - "Like walking into the wrong elevator which is heading down instead of up, careers some times move down too... [but] treat each set back as a setup for a comeback...the more you focus on individual success, the less successful you'll be... You succeed by creating success around you." Towards the end, Mr. Falzon was posed a question about work-life-balance and he said "work life balance is a misnomer. It doesn't exist. What exists is a work-life dynamic."
We were grateful to hear Mr. Falzon's thoughtful words and are looking forward to seeing him around campus more.
- Written by Prateek Jain '18
Davide Grasso, CEO & President of Converse Inc
The final Lecture in the 2016-2017 Leadership Series was delivered by the ingenious Davide Grasso. We were ecstatic to have been present as he engagingly shared some of his thoughts, stories, advice and philosophy.
A versatile marketing and advertising executive with more than two decades of experience in his field, Davide Grasso currently serves as CEO and President of Converse. Mr. Grasso was formerly the VP of Global Brand Marketing for Nike, Inc., in Beaverton, Oregon. At Converse, Mr. Grasso leads the brand's global strategy and executive, working with Nike to continue to evolve Converse's most iconic sneakers. His goal is to marry the innovation enabled by Nike with Converse's creative focus and attitude to keep bringing the brand's fans more of what they love.

Born and raised in Turin, Italy, Mr. Grasso completed studies in Business Administration at the University of Turin that helped to prepare him for his career. After graduating from the University of Turin, Davide Grasso continued his education at SDA Bocconi School of Management in Milan, where he completed his MBA. He then embarked on a diversified career in fashion and apparel marketing for companies in his native Italy and abroad.

In the mid-1990s, Davide Grasso joined the team at Nike, commencing a lengthy tenure with the global sports brand. Among his early roles with the company, Mr. Grasso demonstrated his acumen as Italy's Director of Marketing, Europe's Director of Apparel Marketing, and Director of Brand Marketing in the United States, during which time he spearheaded the launch of Nike Free technology and helped introduce LeBron James as a major brand ambassador. Promoted to Asia Pacific Director of Marketing in 2004, Davide Grasso was named Vice President for Asia Pacific Marketing two years later.

In his subsequent role as Vice President of Global Football (also known as soccer) at Nike, Mr. Grasso worked alongside longtime Nike advertising partner Wieden+Kennedy to develop the "Write the Future" campaign, which was launched during the 2010 FIFA World Cup tournament. In his years as Vice President of Global Brand Marketing for Nike, Mr. Grasso counts "The Black Mamba," "The Chosen," "the KobeSystem," and the "Basketball Never Stops" campaigns among his career achievements.
Robert F. Smith ('94), Founder, Chairman & CEO of Vista Equity Partners
An hour-long fireside chat with our Silfen Leadership Series Chair, Darius Gant, provided a very special occasion for the Business School and for the Black Business Students Association.
Above is a recording of the fireside chat in it's entirety, complete with an audience Question-and-Answer session (starting at 38:50).
Excerpt from Private Equity's Philosopher:
"For many, being one of the first investment bankers to wade into the steaming morass of Silicon Valley in the 1990s would have been the high point of a career, but Smith was just getting started. The tech bubble burst in 2000 as companies with sky-high valuations but poor execution went bankrupt. But for Smith, tech was still golden.
While working for Goldman in San Francisco, Smith advised companies like Apple, "where we kicked out the board and invited Steve Jobs to rejoin the company." Apple, of course, went on to become the most valuable company in the world.
Rather than being lured in by the siren call of dot-coms, Smith saw an opportunity in enterprise software companies, and in 2000 he launched Vista Equity Partners. Smith created Vista with the goal of unlocking the nascent value of enterprise software companies by using a "Six Sigma," or "systematic," approach. "These software companies were truly value plays, from my perspective," Smith explains. But only "if you actually knew how to change the operations of those businesses."
Smith credits his Columbia education, in part, with the success of Vista's model of buying and then investing heavily in often-overlooked enterprise software companies. "You think about Warren Buffett and Henry Kravis, and to a great extent, Columbia seems to mint a whole bunch of people who understand value investing and go about it in a different way," he says."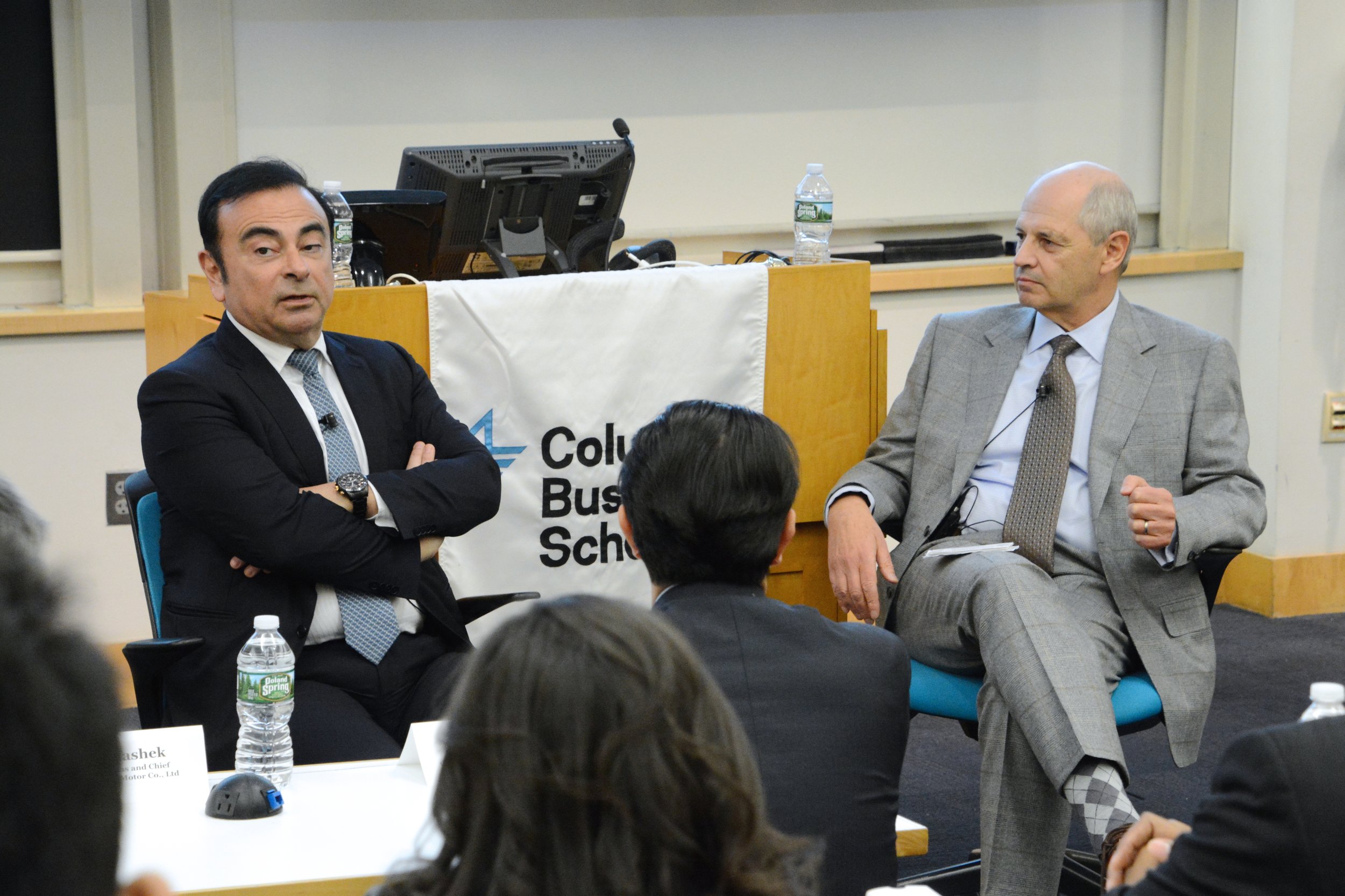 Carlos Ghosn, Chairman and CEO of Nissan, Renault, Renault-Nissan Alliance; Chairman of Mitsubishi Motors
The Silfen Leadership Board is magnificently fortunate to have hosted Carlos Ghosn in the Leadership Lecture Series. This highly anticipated event was moderated by Trevor Harris, the Arthur J. Samberg Professor of Professional Practice here at Columbia Business School.
Carlos Ghosn is chairman and chief executive officer of the Renault-Nissan Alliance, one of the world's largest automotive groups. Mr. Ghosn also heads France's Groupe Renault and Japan's Nissan Motor Co. Ltd., and serves as chairman of Japan's Mitsubishi Motors Corp.
In addition, Mr. Ghosn oversees the Alliance's majority interest in the joint venture that controls AVTOVAZ, Russia's largest automaker and manufacturer of Lada vehicles.
The Alliance companies combined employ more than 450,000 people in nearly 200 countries, and operate 122 manufacturing plants. Renault, Nissan, Mitsubishi and AVTOVAZ together sold 9.96 million vehicles in 2016 – about one in nine cars worldwide.
Mr. Ghosn has been the industry's leading advocate for sustainable transportation; Renault and Nissan were the first automakers to launch a range of affordable zero-emission cars and commercial vehicles, starting with the Nissan LEAF in 2010. The Alliance companies cumulatively have sold nearly 425,000 electric vehicles – accounting for about half of all EVs on the road today, more than any other automaker.
Mr. Ghosn joined Nissan as chief operating officer in 1999 and chief executive officer in 2001. He was the lead architect of the Nissan Revival Plan, which brought the company out of a severe economic crisis in the late 1990s and back to profitability in 2000.
In 2005, Mr. Ghosn became chief executive officer of Renault, making him the first executive to run two Fortune Global 500 companies simultaneously. In 2009, he added the title of chairman of the board of Renault. From 2013 to 2016, he served as chairman of AVTOVAZ.
The Alliance is the most productive and longest-lasting cross-cultural partnership in automotive history. It also has significant strategic collaborations with Daimler of Germany and China's Dongfeng Motor.
Its top 10 markets in 2016 were the United States, China, France, Japan, Russia, Mexico, United Kingdom, Germany, Italy and Spain. Its vehicles are sold under nine brands: Renault, Dacia, Renault Samsung, Nissan, Infiniti, Datsun, Mitsubishi, Venucia and Lada.
Mr. Ghosn serves on the International Advisory Council of Tsinghua University in Beijing and the Strategic Council of Saint Joseph University in Beirut. He is the only major auto industry CEO born and raised in emerging markets. Born in Brazil in 1954, he spent much of his youth in Lebanon. He graduated with engineering degrees from France's École Polytechnique in 1974 and from École des Mines de Paris in 1978.
Craig B. Thompson, President & CEO of Memorial Sloan-Kettering Cancer Center
The Silfen Leadership Board is honored to have hosted Doctor Craig Thompson for an especially noble chapter in the Leadership Lecture Series.
Craig B. Thompson, MD, is the President and CEO of Memorial Sloan-Kettering Cancer Center—the world's oldest and largest private institution devoted to cancer prevention, treatment, research, and education—in November 2010. For 11 years prior to joining MSK, Dr. Thompson was affiliated with University of Pennsylvania, first as a professor and scientific director, then as director of the university's Abramson Cancer Center and associate vice president for cancer services of the University of Pennsylvania Health System.
Dr. Thompson received his bachelor's degree from Dartmouth College and went on to earn his medical degree from the University of Pennsylvania Medical School in 1977. He received clinical training in internal medicine at Harvard Medical School in Boston and in medical oncology at the Fred Hutchinson Cancer Research Institute at the University of Washington in Seattle. Dr. Thompson has published more than 350 peer-reviewed manuscripts and more than 85 reviews in the fields of cancer biology and immunology.
Leadership: Dr. Thompson is an accomplished physician, researcher and inventor. Throughout his career, he has harnessed the power of his leadership, creativity and intellect to make tremendous strides against cancer, a disease that claims one in seven people worldwide. In addition, he focuses on nurturing and educating the next generation of medical and scientific leaders in the mission to cure cancer.
Dr. Thompson also serves as member of the Medical Advisory Board of the Howard Hughes Medical Institute, a member of the Board of Directors of the American Association for Cancer Research, a member of the Lasker Prize Jury, and Associate Editor of the journals Cell, Immunity, and Cancer Cell.
Carlos Brito, CEO of Anheuser-Busch InBev
The Silfen Leadership Board was elated to have hosted Carlos Brito for a Lecture on campus to the Columbia Business School community. A lively speaker with inspiring stories and anecdotes, Mr. Brito provided a packed classroom with some of his reflections on what it takes to run a global company and instill a culture of success.
Carlos Brito is the CEO of Anheuser-Busch InBev. Mr. Brito has worked for Shell Oil and Daimler Benz before joining Brazilian beer and soft drinks company Brahma in 1989. Brahma merged with Companhia Antarctica Paulista in 1999 to form AmBev. He held various positions in finance, operations and sales, before being appointed CEO in January 2004. After InBev was formed in August 2004 after merging Interbrew and AmBev, Mr. Brito was nominated Zone President North America and he moved into the company's top spot of CEO in December 2005, where he implemented a strategy based on cost-cutting. In 2008, after successful takeover of Anheuser-Busch, Mr. Brito took the CEO position of the enlarged group.
Born in Rio de Janeiro, Mr. Brito holds a degree in Mechanical Engineering from the Federal University of Rio de Janeiro, and an MBA from the Stanford Graduate School of Business.
Mr. Brito has crafted a hard-charging management style that delivered industry-beating profit margins and praise from beverage analysts. Shareholder returns under his tenure almost doubled that of peers. He successfully integrated 200 beer brands around the globe into AB InBev's portfolio. Since the acquisition of Anheuser-Busch, the company's EBITDA margin improved to 38% in 2015 up from 31% in 2008. The stock price is up more than 300% since 2006, compared with SABMiller's 200% gain. He was placed in Fortune's 2013 Executive Dream Team.
Edward J.Heffernan ('86), President &CEO of Alliance Data Systems Corporation
The Silfen Leadership Series kicked off to a strong and illuminating start on Wednesday, November 9th when Ed Heffernan ('86) spoke to a student-filled lecture hall at the Business School. Mr. Heffernan sits on the Board of Overseers for the Business School and flew in from Texas to revisit his Alma Mater. We were delighted to host him and hear his brilliant thoughts on leadership and success.
Edward J. Heffernan is the President and CEO of Alliance Data Systems Corporation, a leading global provider of data-driven marketing and loyalty solutions. He joined Alliance Data in May 1998 as vice president of mergers and acquisitions, then became executive vice president and chief financial officer in 2000, leading the company's initial public offering in 2001. Prior to joining Alliance Data, he held similar positions with First Data and Citicorp, and in corporate finance with Credit Suisse.
Mr. Heffernan holds a bachelor's degree in mathematics and economics from Wesleyan University and an MBA from Columbia Business School. He is an active community advocate for children's health and education. He serves on the board of directors for Children's Health System of Texas and is also a member of the board and Long-Range Planning Committee of the Shelton School, a Dallas private school for children with learning differences.
For Alliance Data Systems, Mr. Heffernan is the architect of the company's unique business model, which, through its three businesses, offers a full suite of data-driven, targeted marketing solutions through three primary lines of business balanced to navigate through economic cycles, delivering consistent strong financial performance. Under his leadership, Alliance Data as grown to nearly 16,000 employees, $6.44 billion in 2015 revenue, and a stock price that has gone up more than twelvefold since the business went public in 2001.
Mr. Heffernan is the subject of a fascinating Columbia CaseWorks case study written by Professor Eric Abrahamson.
June 1, 2016
On behalf of the Columbia Business School community and the Silfen Leadership Executive Board of Directors, it is our pleasure to welcome you to the Silfen Leadership Series website and blog! We will be checking in with announcements, reflections, highlights, and perhaps even some guest blog posts.
With some truly exciting speakers and announcements in the works, we look forward to inviting you to upcoming speaker events in the academic year 2016-2017, commencing in August. It's our pleasure to keep you updated with developments, so feel free to keep in touch with us through the Contact Us page.
In the meantime, enjoy a pleasant Summer. We look forward to seeing you soon.
Sincerely,
Chair, Silfen Leadership Board of Directors
Director of Technology, Silfen Leadership Board of Directors